Bamboo is an environmentally friendly and ecologically sustainable material, ideal for creating beautiful, durable, high quality flooring. Bamboo is a pleasure to look at, stand and walk on, and has a natural decorative beauty. Botanically, bamboo is not a wood at all, but rather a grass. Bamboo has a very intricate rooting system allowing the same plant to regenerate itself and to be re-harvested annually. This makes bamboo one of the most renewable and abundant natural resources on the planet. Bamboo is attractive as a building material because it is very hard, strong, and dimensionally stable. Consumers appreciate bamboo products because of the design, elegance, unique grain and color.
An EcoTimber floor is more than beautiful wood, cork or bamboo. Since 1992, EcoTimber has been the only flooring company devoted to forest protection and healthy homes. You can trust that an EcoTimber floor, no matter which one you choose, meets the very highest environmental and quality standards.
Teragren is a U.S.-based manufacturer of fine bamboo flooring, panels, veneer and parquet butcher block. Today, Teragren is one of North America's largest manufacturers of environmentally friendly bamboo flooring, stair parts, trim, panels, veneer and butcher block countertops.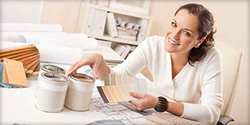 Schedule a Consultation
Contact us today to schedule one of our premier professional services.
Flooring Pages