The fastest growing sector of the floor-covering industry worldwide is laminated flooring. Laid as a "floating floor", with boards that simply "click" together, this is the easiest floor to lay (and remove), requiring no nailing or gluing. Laminate gives a room a bright feel, and can be more stylish than vinyl or carpet. Laminate provides impressively realistic simulation of wood or tile, is easy to maintain, offers a good range of options for all price points and is particularly suitable for family rooms, hallways and children's bedrooms.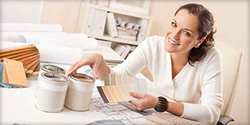 Schedule a Consultation
Contact us today to schedule one of our premier professional services.
Flooring Pages