Hunter Douglas Shades in Palo Alto, CA
Establishing the right level of comfort in your home is aided by the right choices in window treatments. The light, temperature, and ambiance of a room affect how a room is used and how you feel about it. For many homeowners, the right window treatment is a window shade.
Our comprehensive range of Hunter Douglas window fashions features shades in fabrics, natural materials (wood, bamboo, reeds, grasses), aluminum, and synthetics (faux wood, vinyl). Our premium gallery contains many shade styles and designs to fit any window in your home.

DUETTE® Shades
As the first cellular shades, Duette® Honeycomb Shades are carefully built to promote energy efficiency for windows in both cold and warm regions. This classic selection looks lovely and insulates your home all year round. Duette's uniquely constructed honeycomb architecture traps air in separate pockets, resulting in insulation that can help save money on energy. Decorate any type of window from skylight windows to custom-fit panes. Honeycomb shades are one of our most adaptable alternatives, and they look great in any setting.
SILHOUETTE® Shades
Silhouette® Window Shades will fill your space with soothing light while retaining a sense of solitude. Unique S-shaped vanes suspended between two sheers may be tilted to various angles, enabling light to seep through while keeping the outside world from looking in. Our vast selection of exclusive fabrics, textiles, and materials come together for premium design and style with Silhouette® Window Shades. Providing privacy, UV protection, and room darkening.
PIROUETTE® Shades
Pirouette® Window Shades combine spectacular vistas with seclusion. Soft, adjustable fabric vanes are linked to a single sheer backing in these revolutionary window coverings, which provide exquisite fabric options, design creativity, and refinement in one window covering. With Invisi-Lift™ technology, leave cords and tapes in the past with a window treatment that floats gracefully and provides a clear view outside the home. Piroutette's bold colors come in semi-opaque and room-darkening features for healthy, restful sleep.
LUMINETTE® Shades
Luminette® Privacy Sheers elegantly soften the sunshine by combining the gentle romanticism of sheers with the drama of draperies. These sheers also contain movable fabric vanes that allow you to adjust the amount of light coming in from all sides. Wide expanses of glass, sliding doors, and other vertical applications are ideal for Luminette sheers. With Luminette sheers available in cut yardage, coordinate your design with accented pillows, duvets, and other fabricated elements.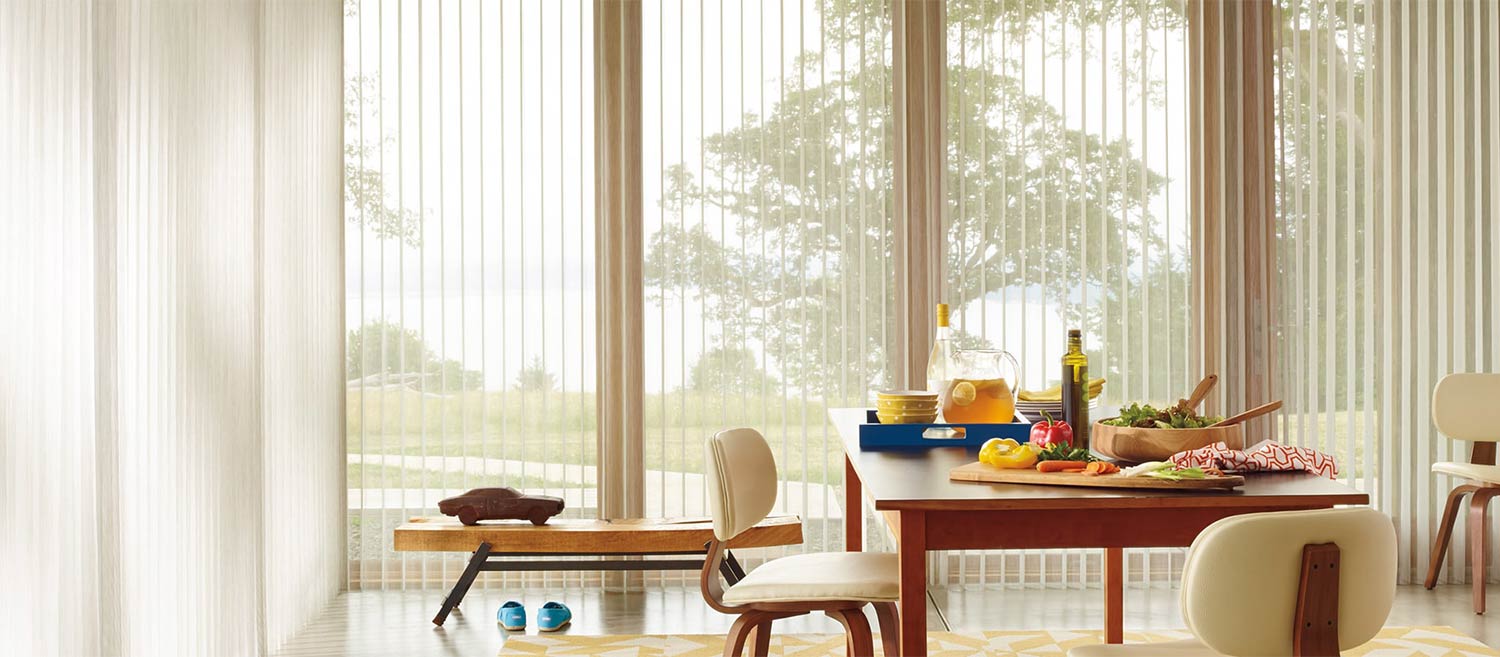 Top 4 Benefits of Using Shades

Installing shades in your home or office gives your space these benefits:

Maximum energy efficiency – improve the energy efficiency of your home by taking advantage of the sun's warmth in cooler months and blocking out unwanted heat in warmer months.

Improved light control – Light sets the tone and ambiance of a room. Mastering light control means taking advantage of the available light to enhance the look of your room and improve visual sight.

Extra privacy – there are places in your home where extra privacy may be desired and installing window shades can give you that security without completely blocking out natural light

Superior sun protection – installing window shades is a great way to get extra sun protection for all the elements in a room such as your flooring, artwork, furniture, etc.